~Sally's Diary~
Sally went with the WWF to their training session on 28.Feb for learning to survey the sea grass at Mataking Island.  Its very important part of our eco system which needs to be monitored, for without it, the turtles and many other life forms would suffer.  We need the sea grass to be healthy here so that the turtles can flourish.
~サリーの日記~
先日、2/28マタキン島でWWFでおなじみのガビン&ニーナによる海草調査トレーニングを実施。この調査はエコシステムを確立するうえで欠かせないもの。海草は海亀や海洋生物の大切な栄養分。ヘルシーな海草が育つ環境づくりが必要だわね。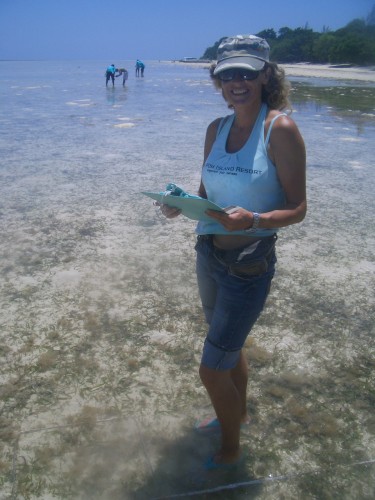 The meeting started with a presentation by Gavin Jolis and Nina Ho from WWF explaining the importance and the different types of sea grass.  It was then discussed for the correct method for carrying out the survey and the information needed to be able to keep accurate records.  The surveys should be carried out every 3-4 months to be effective.
この会はWWFのガビンとニーナによるプレゼンテーションに始まり、環境整備の大切さやいろんな海草の種類を知ることができたわ。それから海草の調査方法やどのようにして記録していくかなどについてみんなでディスカッション。この調査は3-4ヶ月ごとに実施していくそう。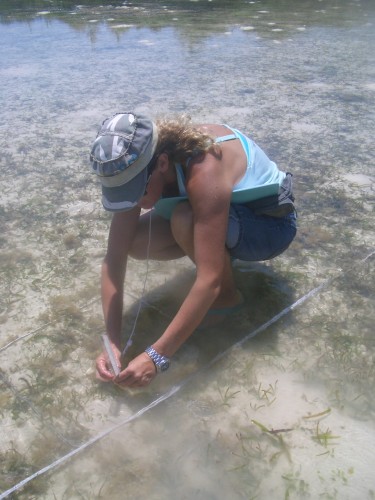 The training then took place first of all on land, where we practiced laying out the line and setting up our survey squares.  We then went to the beach and set up our survey lines for real.  It was very interesting checking out what type of grasses we had found and there were a few arguments on which ones they were.  The basic method was laying out a line of 50 meters and then checking every 5 meters a 50cm section.  We took photos and measured the lenght and condition of the grasses.  It was rather hot, so some us got a little sunburnt, but it didn't take too long to finish.
まずは調査ポイントを四角にラインでくくってしるしをつける練習を陸で実施。それからビーチに出て調査ラインをセットアップ。基本的な方法は50メートル四方にくくったライン内を5メートルごとに分割、その中の50センチ四方ごとにどんな種類の海草があるかを調査、写真を撮ったり長さを測定したり。調査中もこの海草がどの種類であるかをみんなで話し合ったり。。。この日は暑くて日焼けもしちゃったけど調査はそんなに時間はかからず終了。
When we finished, we had lunch and then there was a formal presentation of our certificates.  It was all very informative, and we look forward to carrying the survey out soon in Pom Pom.
トレーニング終了後はランチ、その後はWWFからトレーニング修了書が参加者へ授与。本当にいい勉強会になったわ。ポンポン島でも近日調査開始予定。楽しみだわね!