Diving
"Pom Pom Diving, top quality diving service at a top quality resort"
Our resort is situated in Borneo, a place on earth considered to be a paradise for diving. The diving offered is supported by professional services, suitable for all levels of experience.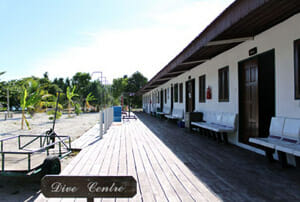 Pom Pom Dive Centre can be found at Pom Pom, a small island in the Celebes Sea. We are a select, luxury dive centre specializing in offering a top quality service to you, our special scuba diving guests.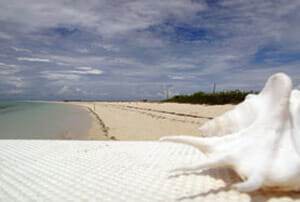 We have small groups so that you don't feel rushed or pressured and we ensure that everything is prepared and organized to make your scuba diving an easy, safe and fun diving experience. All you need to do is bring your sunglasses and sunscreen, and pull on your wet suit.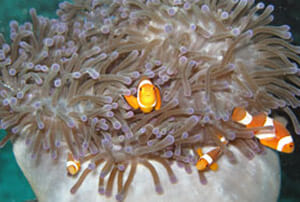 Our professional Instructors and staff will assist you both above the water and below, guiding you and showing you our wonderful underwater life along with our amazing marine macro life.
Non-Divers
Never dived before and want to learn?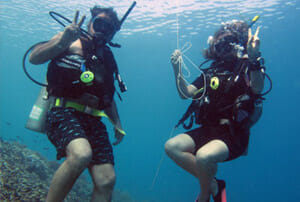 You have probably heard about diving at some point in your life, or watched it in movies and documentaries. Here at Pom Pom Island, our dive instructors are so enthusiastic about diving and marine life, we are sure that you will enjoy diving as much as we do. The first time you breathe underwater, you open a door to a whole new world. It can be a little daunting at first, but with our patient and friendly instructors, you will soon learn how to dive and enjoy the sensation of freedom in a marine environment.
The underwater world is a different world compared to the surface, with marine life that you have never seen or heard about before. Every dive you will find something fresh and new to experience and enjoy. There are many divers out there, professional, leisure or hobby, all having different reasons to dive, you can join them and the best part is, it's fun!
We are licensed PADI 5* Dive Resort (S-36482), and abide by PADI Standards and Procedures. If you have never tried Scuba Diving before, you can start by trying a Discover Scuba Dive, where you can enjoy your first underwater diving experience with a qualified PADI Dive Instructor. You can become a SCUBA DIVER in 2 or 3 days, or if you prefer you can become an OPEN WATER DIVER in 4 to 5 days.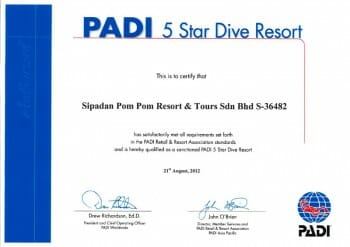 Read more about it at PADI Courses
 eLearning
At Pom Pom Island Resort you can now learn with PADI eLearning on line which means when you arrive here, you are ready to get started in the water straight away! This will give you:
Convenient online access to knowledge development course material for one year
Unlimited and unrestricted access to an online version of the PADI Open Water Diver Manual
The ability to complete knowledge assessments at your own pace
Read more about it at PADI Courses
Divers
We are different from other PADI dive centres
We are licensed PADI 5* Dive Resort. Our goal is to give you the best service possible and to make your diving experience truly unique and incredible. This is holiday diving at its best, the relaxing, easy way!
No Carrying Dive Cylinders and Setting up of Equipment
Surface Intervals
Island Stop Off
We Wash Your Equipment
Free Self Dive (Between 8am and 6pm)
and more. Continue to "Our Services" for more details!
Beginner and Experienced divers, improve your diving at Pom Pom
If you dive already, and wish to progress, we can offer you the ADVANCED COURSE, RESCUE and many others. Our prime goal is to ensure your diving safety, so our friendly and enthusiastic Dive Instructors will assist your every need and are committed to making your diving dreams come true.
Find out more at PADI Courses
PADI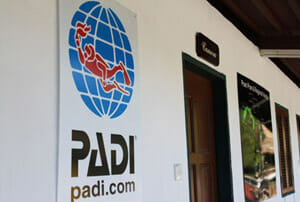 The Sipadan Pom Pom Island Resort. We are licensed PADI 5* Dive Resort. (S-36482)

Search for us at PADI! Click the link above and enter the following:
Location: Semporna
Name: Pom Pom