Are you a diver? Looking for new experiences? Come join us at Pom Pom Island Resort for a unique experience: Coral Planting! You can not only enjoy a dive, but also contribute to the regeneration of our planet's coral reefs. Pom Pom island in the past was a blast fishing site, which has destroyed most of the corals in the area. To help speed up the recovery process, we are actively planting corals and YOU can be a part of it. 
Here are some photos of  a recent coral planting dive with a 13 year old boy from the Philippines.
Breaking the coral into manageable pieces (Because of the coral rubble substrate, corals do not have a stable substrate to grow. They require a stable substrate that keeps them close to the sun to photosynthesize.)
Cable tying corals to the frame.
Planted corals.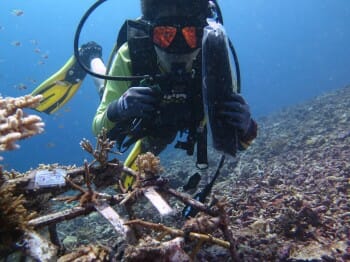 Mission complete!
Book now or call for more details!
Posted by
Jesse