Turtle came up at the Beach and laid eggs again during midnight.
In the next morning, We collected the turtle eggs ,and transferred them to the protected area…
前日の深夜、海亀がまた産卵に訪れました。翌朝、卵は回収して保護エリアへ移動。。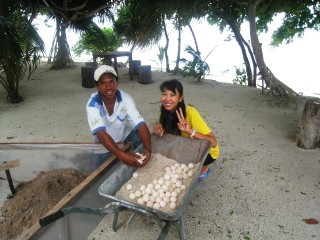 Chinese & Japanese Guest went to the snorkeling trip in the  Afternoon.
午後は中国からと日本のゲストが一緒にシュノーケリングトリップへ。。。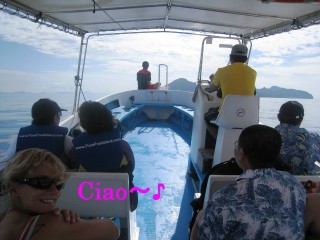 Before we started snorkeling , we visited the Research Centre of Tridacna maxima (Giant clam) at Bohaydulong Island. シュノーケリングを始める前に、ボハイドゥラン島にあるジャンボシャコガイの養殖研究所を見学。。。
Our Dive Instructor, Ms.Carla introducing the centre and the protection of Marine Life… ダイブインストラクターのカーラがこの施設のマリンライフ保護活動について説明中。。。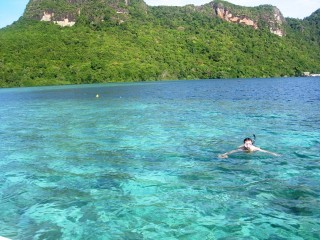 After the snorkeling at Bohaydulong,we moved to Mantabuan Island…ボハイドゥラン島でのシュノーケリング終了後はマンタブアンへ移動。。。
We enjoyed island walking at Mantabuan….マンタブアンでは島歩きを楽しみ。。。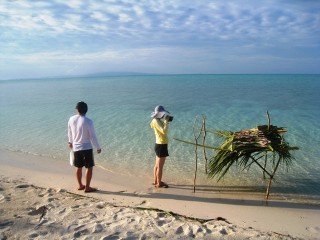 We found dried Fish made by Local Fisherman… ローカルの漁師さんが作っている魚の干物。。
Also,we saw three turtles swimming at the sea during the walking….島歩きのあいだに海亀が3匹泳いでいるのも見れました。
After the island walk ,we enjoyed snorkeling during sunset….
島歩きのあとはサンセットシュノーケル。。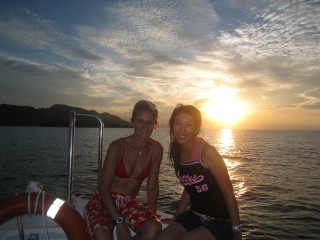 Sun sets slowly to the level of the sea… with silence… Cantik ! (=Beautiful *Malay word )
静寂の中、ゆっくりと沈む太陽。。。チャンティック!(マレー語でキレイ・美しい)