Information for Divers
Diving around Pom Pom Island
Situated surrounded by 7 islands, we are ideally located for all keen divers to explore our sites and search for famous marine life including turtles and macro.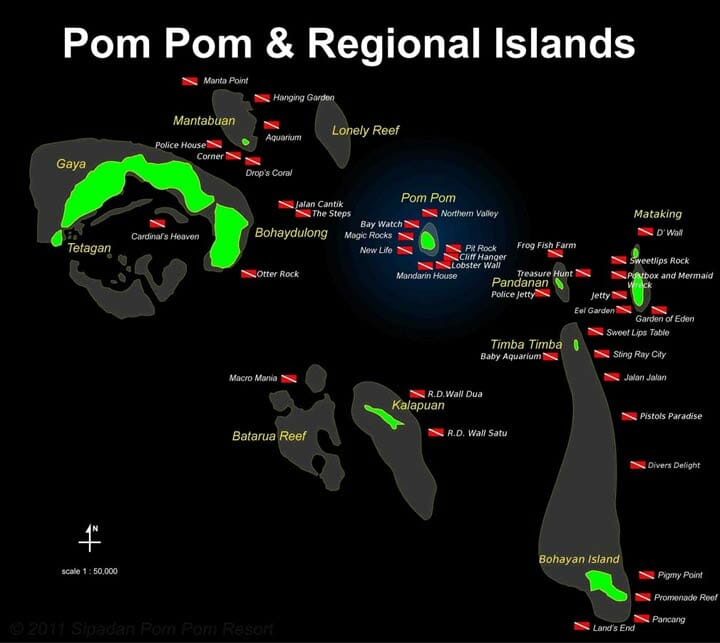 Our Diving Package
The Dive Package consists of 2 morning dives and 1 afternoon dive.
We leave after breakfast for the first two dives to one of the 7 nearby surrounding islands. Depending on weather and sea conditions we can sometimes visit the beaches and take our surface interval break enjoying a refreshing drink and snack. After the second dive, we return for lunch, and then in the afternoon we make our third dive at one of our Pom Pom Island dive sites.
Furthermore the diving package includes free self dives up to 6pm from our jetty. Using PADI's buddy system, you will be able to observe the shy and spectacular Mandarin fish located near our jetty. If this is not enough to satisfy your diving needs, we can arrange for a small charge, exciting night dives ideal for passionate photographers to observe amazing macro life.
PADI Dive Centre
Our resort is situated in Borneo, a place on earth considered to be a paradise for diving. The diving offered is supported by professional services, suitable for all levels of experience.
We are a registered PADI Scuba Diving Centre in 2008, and abide by PADI Standards and Procedures. If you have never tried Scuba Diving before, you can start by maybe trying a discover scuba dive, where you can enjoy your first underwater diving experience with a qualified PADI Dive Instructor. You can become a "SCUBA DIVER" in 3 days, or if you prefer you can become an "OPEN WATER DIVER" in 4 days.
If you dive already, and wish to progress, we can offer you the "ADVANCED COURSE", "RESCUE" and many others. Our prime goal is to ensure your diving safety, so our friendly and enthusiastic Dive Instructors will assist your every need and are committed to making your diving dreams come true. >> PADI Courses
At our dive centre, we have a Briefing Room with DVD facilities, Gear Room for drying and storing your equipment, fresh water showers, Camera Room and Compressor Room. We aim to provide you with the highest service.

Local Conditions
The water here is normally around 26°C to 30°C degrees, even in deeper water. The visibility can depend upon recent weather conditions but is normally at least 15-20 metres and can be up to 30 metres. We can have currents, but in this case we organize DRIFT DIVING. The boat will follow at a safe distance and collect you once your dive has finished with your guide.
Equipment Rental
We use MARES and Scubapro BCDs, Regulators and Fins. (More information coming soon!)
Typical Day Diving Schedule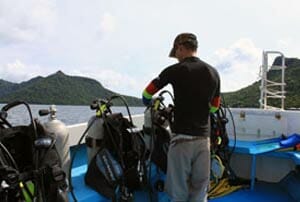 Our daily diving schedule starts at 8.30am. All your equipment will be prepared and ready on the boat, you will just need to bring your mask, fins and wetsuit and come aboard our boat. We will take you to one of our many dives sites where you will be given a briefing then assisted and guided during the dive itself.
You can relax during your surface interval, take refreshment and enjoy the scenery. We make the second dive at a different site then after more refreshments we return you to Sipadan Pom Pom Island Resort for lunch. At 3.00pm we take you for your third dive to a site near Pom Pom Island. At the end of the diving day, all your equipment will be carefully washed, cleaned and dried by our staff and instructors ready for the next day's diving.